Workshop on Policing Public Protest held in Baghdad
17-12-2021
Between 13 - 15 December 2021, EUAM Iraq facilitated a three-day Policing Public Protest Workshop. The event was held at the Ministry of Interior's Training & Qualifications Directorate in Baghdad for senior officers of the Law Enforcement Forces Command (LEFC), at both strategic and tactical levels.
The workshop was the fourth in a string of similar events facilitated by EUAM Iraq and follows a highly successful workshop which was held in Erbil, the Kurdistan Region of Iraq, in late September.
The 22 attendees at the Baghdad workshop comprised three Major Generals, 13 Brigadier Generals and 6 Colonels in charge of a range of operational, support and administrative functions within the LEFC, the unit with primary responsibility for policing protests in Baghdad city and the province.
Amongst the topics covered during the course were international best practices and standards, human rights compliance, critical decision making, command structures and gender balance. The subjects were then incorporated and practically applied in a series of public protest table-top exercises.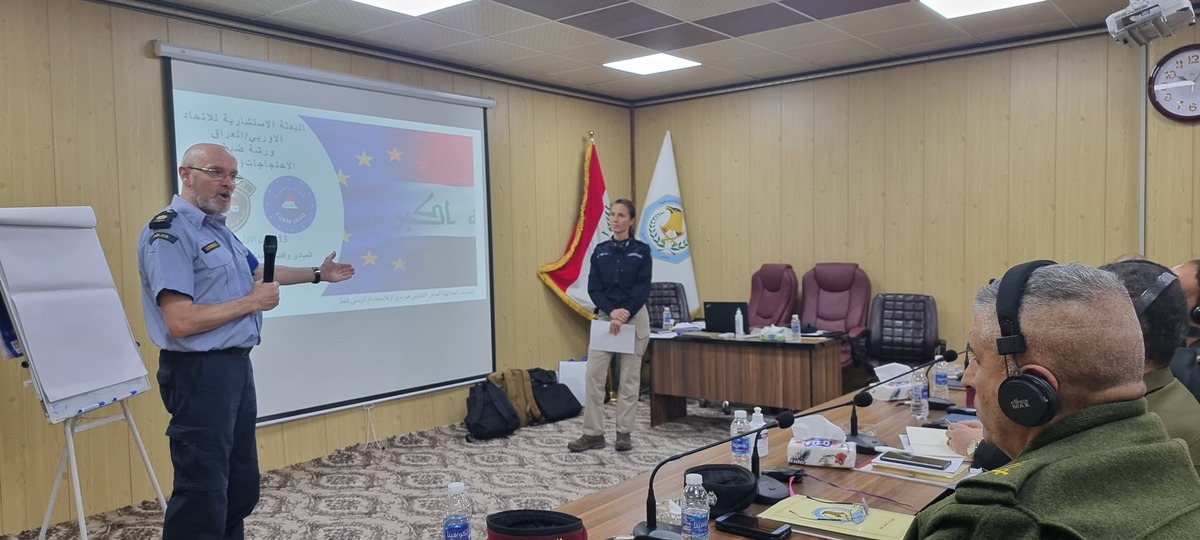 EUAM Iraq's Senior Strategic Advisers Donal O' Driscoll and Annemarie Van Berkel leading the workshop in Baghdad.
The workshop also included space for open discussions, as attendees shared experiences and video footage of the policing of recent large-scale protests at Baghdad's International Zone checkpoints.
In a meeting held prior to the close of the workshop, and attended by Major General Ziad, Director of the Training & Qualifications Directorate, LEFC Commander Major General Jawad, as well as EUAM Iraq's Head of Mission ad interim, Ms Anne Meskanen, and Head of Operations, Mr Robert Zowkiewski, it was agreed that the process will be continued with a series of one-day Policing Public Protests workshops to be held over the coming months.
The attendees were then presented with their certificates of attendance by Major General Ziad, Major General Jawad and Head of Mission ad interim Meskanen. The ceremony was concluded following short remarks by Major General Ziad and the Head of Mission.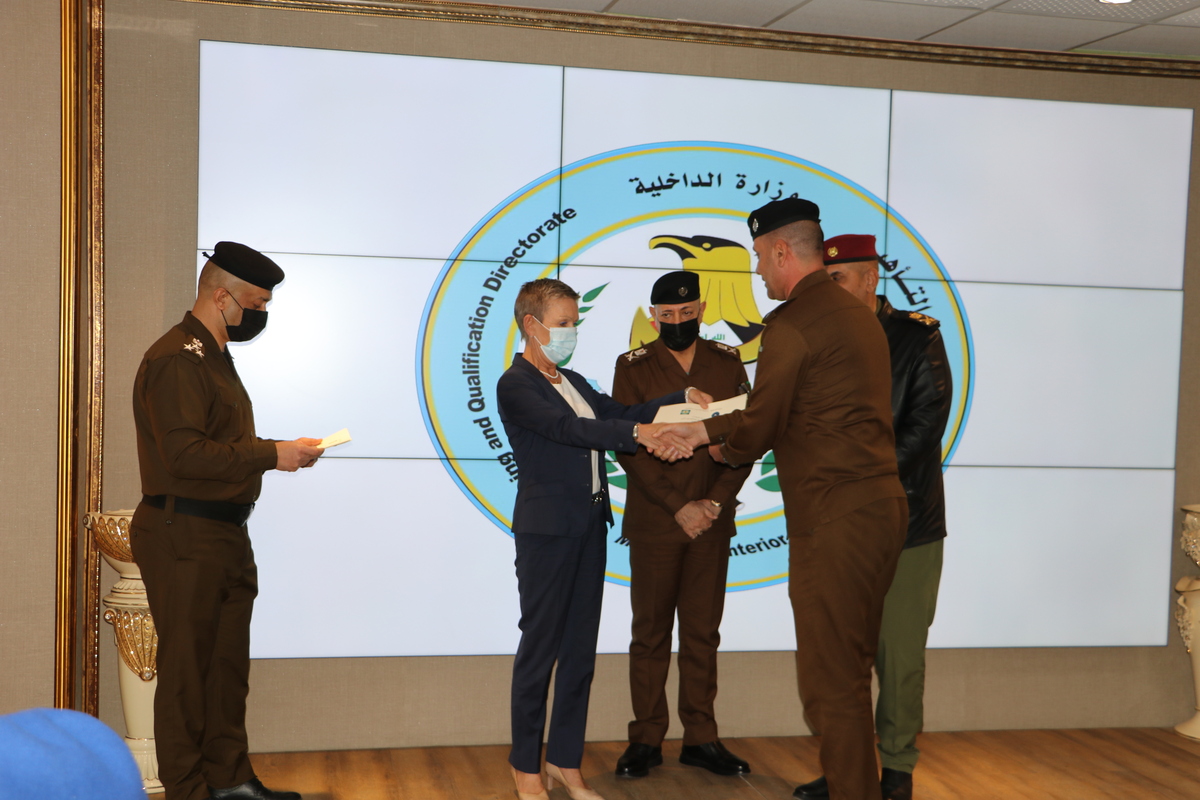 Ms Meskanen mentioned in her speech that public order policing has become a crucial issue in Iraq, especially in the aftermath of the mass demonstrations that took place in Baghdad and across the country since Autumn 2019.
- I am fully aware of the challenges that the Law Enforcement Forces Command and its personnel are facing in fulfilling their duties. Commanders in charge are called to make difficult decisions, often in critical situation and under strong pressure – from the chain of command, if not from the political level – striking a delicate balance between safeguarding the rights to demonstrate, preventing and de-escalating violence, and protecting people and properties, while carefully choosing between coercive and non-coercive means. I hope that our workshop was beneficial for our esteemed Commanders, in providing you with a useful set of notions, insights and experiences to help you make right and just decisions.
Ms Meskanen concluded that she feels confident that this workshop is the continuation of a long, close and productive relationship between the Law Enforcement Forces Command and EUAM Iraq.
The workshop was very well received with participants expressing the desire that similar events should be held for Policing Public Protest Commanders throughout Iraq.
A further workshop on policing protests for tactical level officers is scheduled for Erbil in January 2022.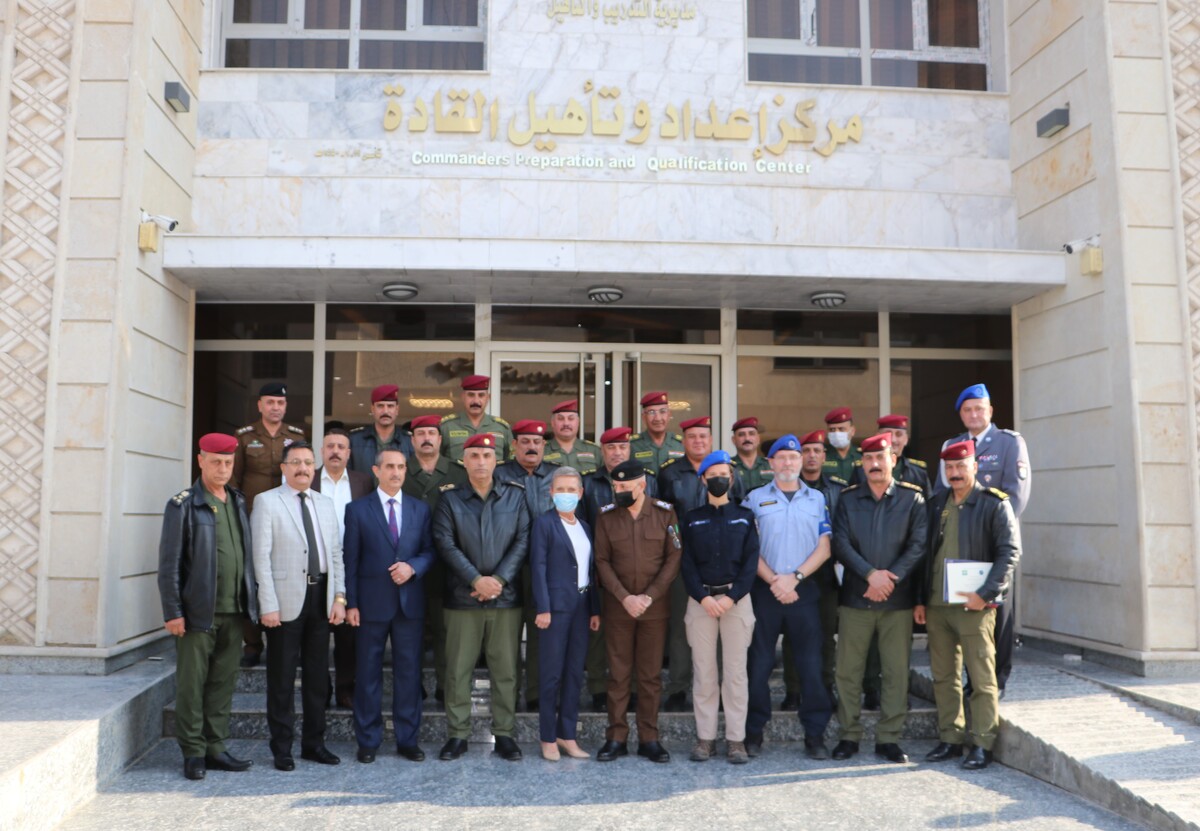 Course participants at the front of the Iraqi Ministry of Interior's Training & Qualifications Directorate in Baghdad where the workshop was held.