EUAM Iraq's advisers provide advice and support to the Supreme Elections Operations Centre
12-10-2021
On 10 October 2021, Iraq held its parliamentary elections. EUAM Iraq attended the Supreme Elections Operations Centre in Baghdad for the purposes of offering support and advice from a Command, Control and Crisis Management perspective, as required.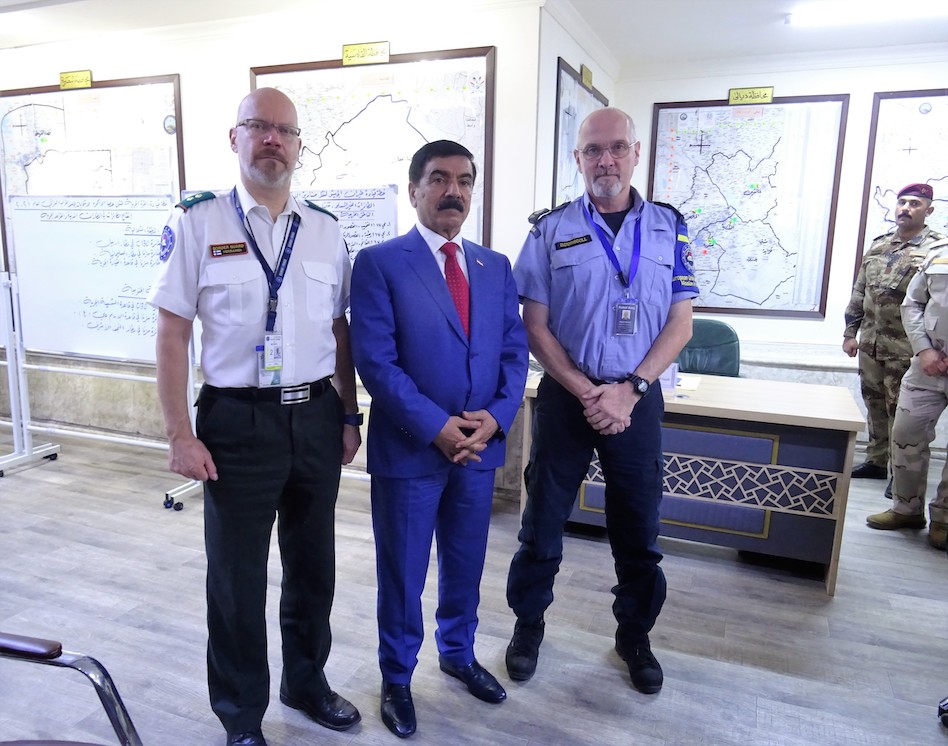 EUAM Iraq Senior Advisors Ilkka Herranen and Donal O'Driscoll at the Supreme Elections Operations Centre.
The European Union Advisory Mission in Iraq (EUAM Iraq) had the opportunity to cooperate closely with Iraqi counterparts by providing support and advice at the Supreme Elections Operations Centre (EoC) – the heart of where security incidents-based decisions were taken on the day. This was made possible within the framework and parameters of EUAM Iraq's mandate that focuses on providing strategic advice, including in the spheres of crisis management, command and control.
Two teams of two Senior Advisers specialising on command and control, crisis and border management were present at EoC throughout the election day, accompanied by a national colleague to provide translation.
Reflecting on the election day experience, EUAM Iraq's Head of Mission Major General Christoph Buik noted:
- We would like to thank the Iraqi Minister of Interior and the Minister of Defence for the invitation to be part of the Supreme Election Operation Centre in our strategic advisory role in this very important day for the people of Iraq. This was a very positive first step and it was an honour for us to be the only international institution to have been provided this level of access. In the future, we would like to be further embedded into actual security situations where we could provide our strategic advice.
In addition, EUAM Iraq sees potential in integrating the experience and observations gathered at the Supreme Elections Operations Centre into various training formats that are regularly developed by the Mission. Donal O'Driscoll, EUAM Iraq's Senior Strategic Adviser on Command and Control, who was present at the EoC, underlines the potential for creating tabletop exercises to prepare for future security-related operations.
- Tabletop exercises are a scenario-based training format where team members meet in an informal, classroom setting and discuss and practice their roles as well as their responses to a particular emergency situation. Such exercises enable participants to identify and address potential weaknesses and further enhance their capabilities for commanding and managing critical incidents and situations. We believe that this format can be of benefit to our Iraqi counterparts.
In addition, EUAM Iraq was able to support the Delegation of the European Union to Iraq during the election day in the framework of the EU integrated approach. The Mission provided two close protection teams for the EU Delegation's Local Short Term Observer teams to facilitate their visits to polling centres in central Baghdad in their contribution to the European Union Electoral Observation Mission in Iraq.