State of Play event: EUAM Iraq discusses Strategic Advice on civilian Security Sector Reform with EU partners and NMI
13-11-2022
Strategic Advice on civilian Security Sector Reform was at the heart of the State of Play event organised on 10 November by EUAM Iraq with participation of the Delegation of the European Union to Iraq, EU Member States Embassies and NATO Mission Iraq (NMI).
"Our Mission has three strategic objectives. First, provide strategic advice, including on the Iraqi National Security Strategy. Second, analyse, assess and identify Security Sector Reform-related opportunities for the European Union. Third, together with the EU Delegation, facilitate and support EU and Member States engagements. I am convinced that we are on the right path, I think that our Mission is on track for all three objectives", stated EUAM Head of Mission Anders Wiberg. "I consider that we have a very good relationship with our key Iraqi counterparts, including the Prime Minister's Office, the Office of the National Security Advisor, the Ministry of Interior and key agencies. In many meetings I have heard positive feedback from the highest levels, and received many requests for more strategic advice", he declared.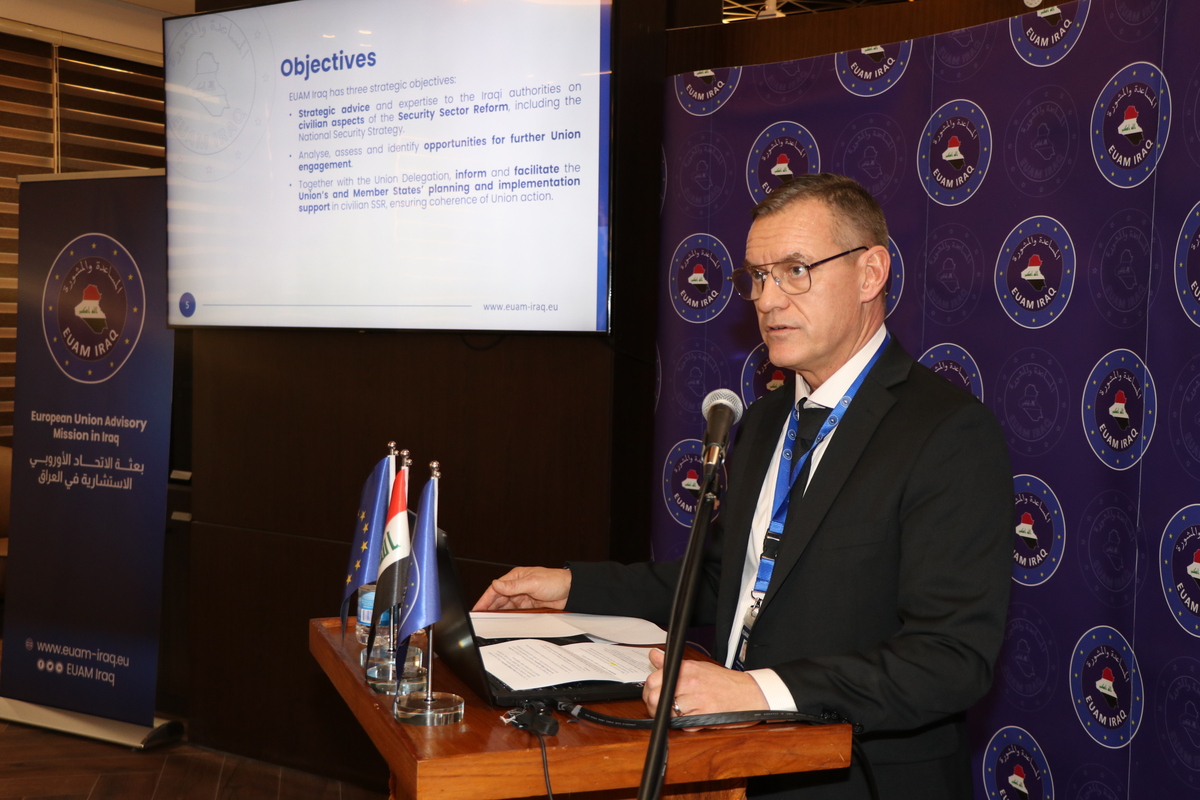 EUAM Iraq Head of Mission Anders Wiberg addressing the audience at the State of Play event on 10 November
On her part, Agne Gleveckaite, Deputy Head of the EU Delegation to Iraq, stated that "the European Union is and will remain committed in supporting Iraq in many areas and with various tools and instruments available at our disposal, within the EU Integrated Approach". "Support to Iraqi authorities in addressing the continued internal and regional security challenges, especially as regards counter-terrorism and security sector reform, remains among our priorities", she concluded.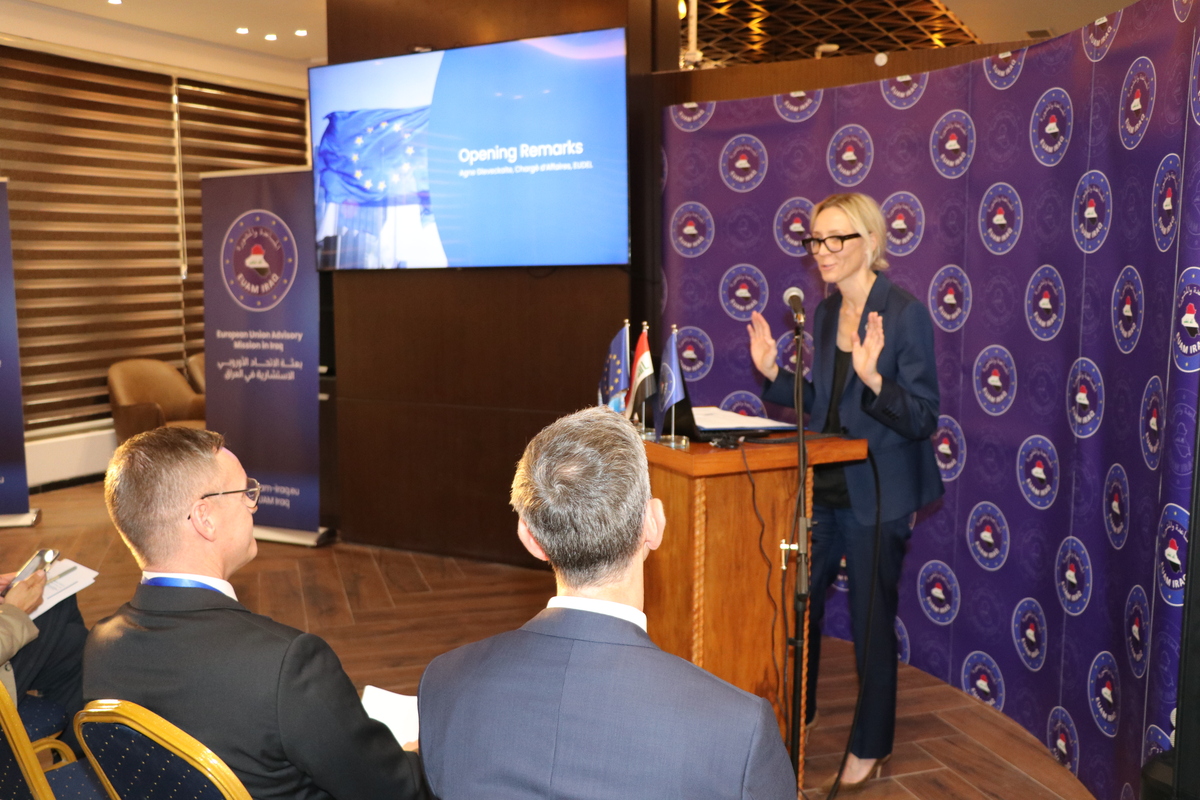 Deputy Head of the EU Delegation to Iraq Agne Gleveckaite delivering her opening remarks
The Ambassadors of Denmark, Finland, Greece, Hungary, Netherlands, Poland, Romania and Sweden were present, as well as diplomats from other EU Member States Embassies to Iraq (Bulgaria, Czech Republic, France, Italy, Spain) and the EU Delegation to Iraq. Ambassador Laetitia van Asch, Head of Senior Civilian, Strategic Representation and Outreach, represented NATO Mission Iraq.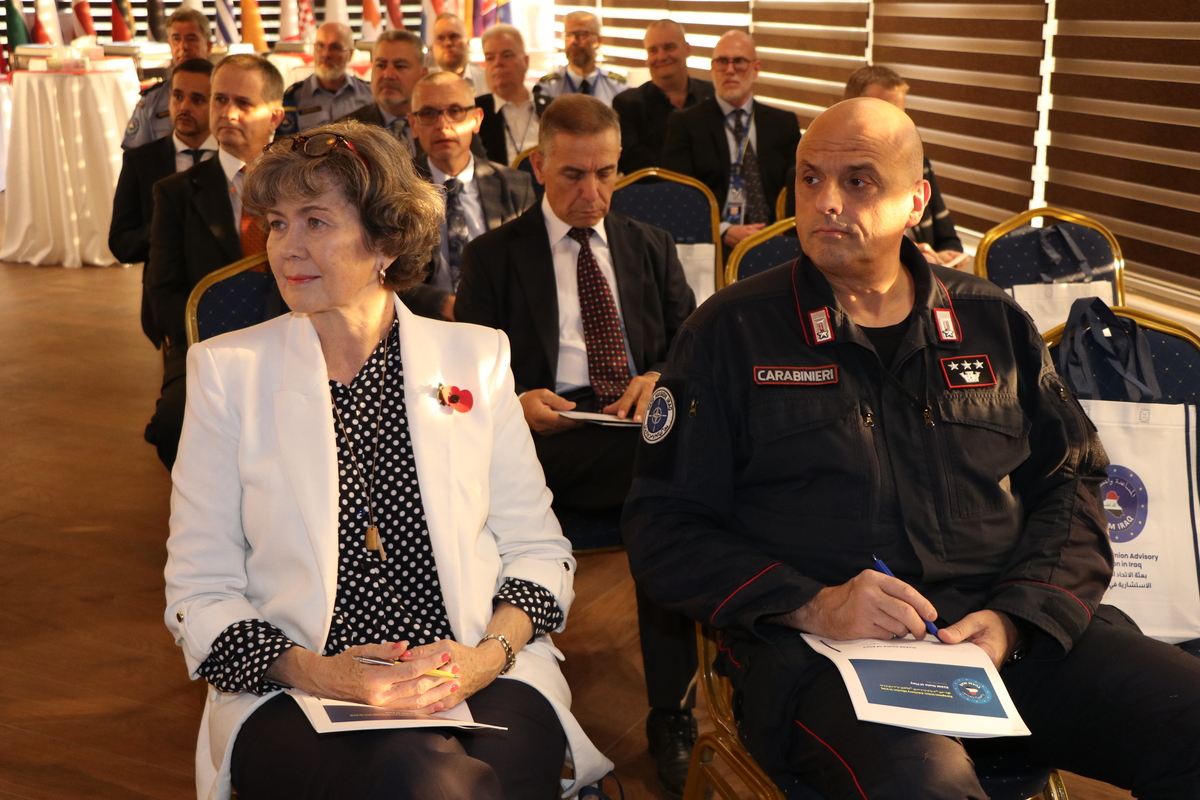 NMI Ambassador Laetitia Van Asch participating in the event together with Ambassadors and diplomats from EU Member States Embassies to Iraq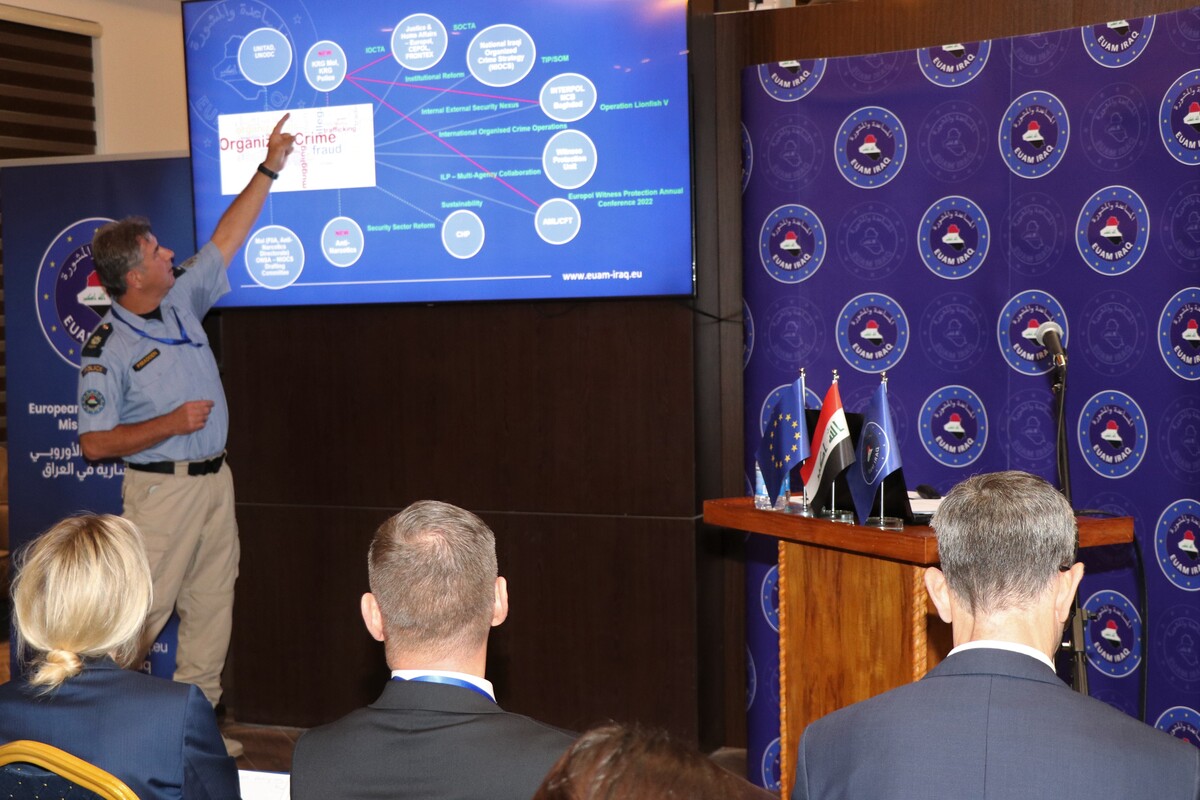 EUAM Iraq Head of Operations Paul Madden's presentation on Organised Crime Strategic Advice
Presentations on EUAM activities were held by EUAM Senior Strategic Advisers on Institutional Reform, Command/Control and Crisis Management, Preventing/Countering Violent Extremism, Human Resources Management, Organised Crime, and Cultural Heritage Protection.
The Head of EUAM Project Cell department briefed the audience on the programmatic approach.